Jul 15th 2019
Destination Seychelles
There are many ways that this piece could go and I want to enlighten you all with some of the mysteries that surround the Seychelles fishery. I will start with my background of spending four years of my life guiding in the Seychelles and to get a better feel for what that time period means, that over one thousand days working on the flats. The Seychelles runs one of the longest fishing seasons of just over nine months out of the year and will take a short hiatus during June through August when their monsoon season brings high winds and awful seas to contend with. It is located around 500 miles Northeast of Madagascar in the Indian Ocean and sits 7 to 9 degrees south of the equator.
The "Big five" Species of the Seychelles include the Indo-pacific Permit, the Giant Trevally, the Bonefish, the Triggerfish, and the Milkfish. That being said every angler has a hit list much different than the other where more exotic species like the Bump Head Parrotfish or Napoleon Wrasse trump the big five mentioned above. Often I saw very experienced anglers devote a full week of fishing to just one of these fish knowing that if they wear going to tick it off their list that is would be there, and if they didn't catch one they would treat it as a training for their next visit. I could go into detail on all of these fish, but that might require another catalog, so I will say this; at any given point you can encounter all of these fish within a five minute period, take aim and fire one out there. Some days you witness what feels like you have been on a safari, where groups of Nurse Sharks are hosting a hoard of GT's (Giant Trevally's) aggressively feeding on anything in its path, to football fields of feeding Milkfish cruising on the surface with their mouth out of the water, vacuuming up plankton while accompanied by a number of giant Manta-rays.
During my first year of guiding over there, the indo pacific permit seemed to be the fish that eluded most anglers and guides. We would have pow-wows at the end of each day detailing encounters of these fish in numbers that were frustrating compared to our conversion rate, so we decided to hit the lab (tying bench) to start concocting the next golden ticket for these fish. History had shown that they overall where being caught on lighter colored crabs and a few sand prawn imitations, but to sum it up something wasn't quite right. Most of the fish we encounter are found in knee deep water on white sand flats, with very little variation of bottom substrate (coral or grass). We needed something that would have the profile of the crabs that inhabited these areas and didn't have the splat down that a traditional crab fly body has when entering the water. There was an existing crab out there which we liked but it didn't have the durability, weight, and colors that we wanted so we brought this to the table to start dissecting. Our typical average of these fish prior to the creation of the Alphlexo crab was 15 for a nine month season at Alphonse Island. After we put our heads together and came up with this pattern the number jumped to an average of 60 plus permit a season and also claims a majority of the triggerfish that are caught by anglers every year.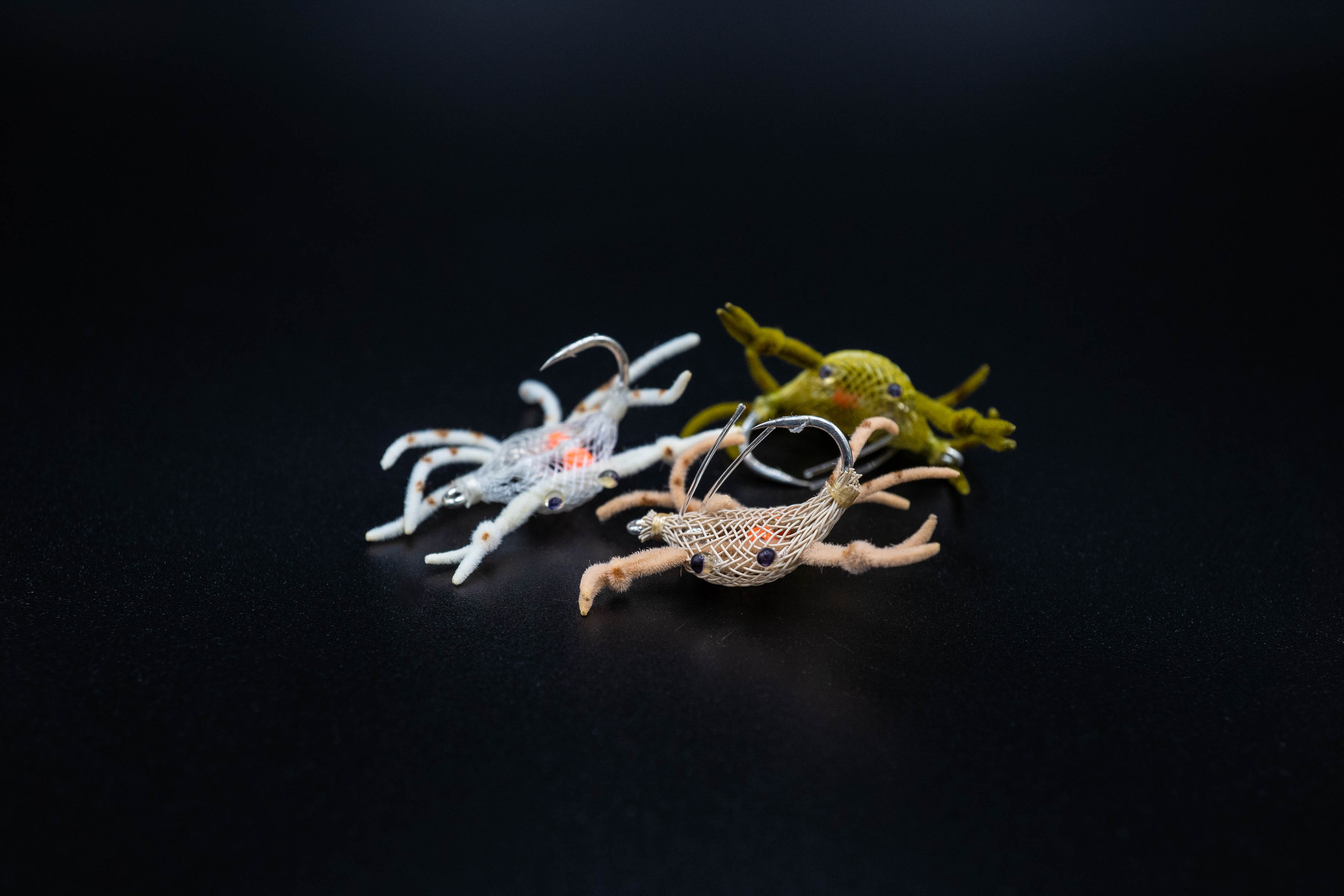 For the fisherman what you should know is this is not a do it yourself location. Unless of course you have your own live aboard and are willing to make the journey. The bottom line is most of the islands are closely watched after by the government and treated as conservatories of both marine and wildlife that define these islands and atolls as home. Each location offers a unique specialty, where some you will focus on one particular species because of its abundant populations that for some reason inhabit it. Most anglers come armed to the teeth with tackle, with at least 9, 10, and 12 weight rods, buckets of flies, and spare fly lines and leader to go around. Yes there are white sand flats everywhere, but the Seychelles are home some of the largest living coral reefs in the world. The reefs are extremely harsh on your tackle and fish know to take you there.
To sum it up, as a fisherman in the Seychelles you will have the opportunity to wrangle 100 pound GT's to 50 bonefish days, or set out on a blue water trip to find Marlin, Sailfish, Wahoo, Yellowfin Tuna, Dog toothed tuna, and Dorado. Cast at groups of permit following Brown skates, to dozens of triggerfish tailing on ankle deep flats. The trip is one in a lifetime until you go, then it often turns into the annual trip of a lifetime.
- Signature Tyer Alec Gerbec