Mar 5th 2020
Destination Bahamas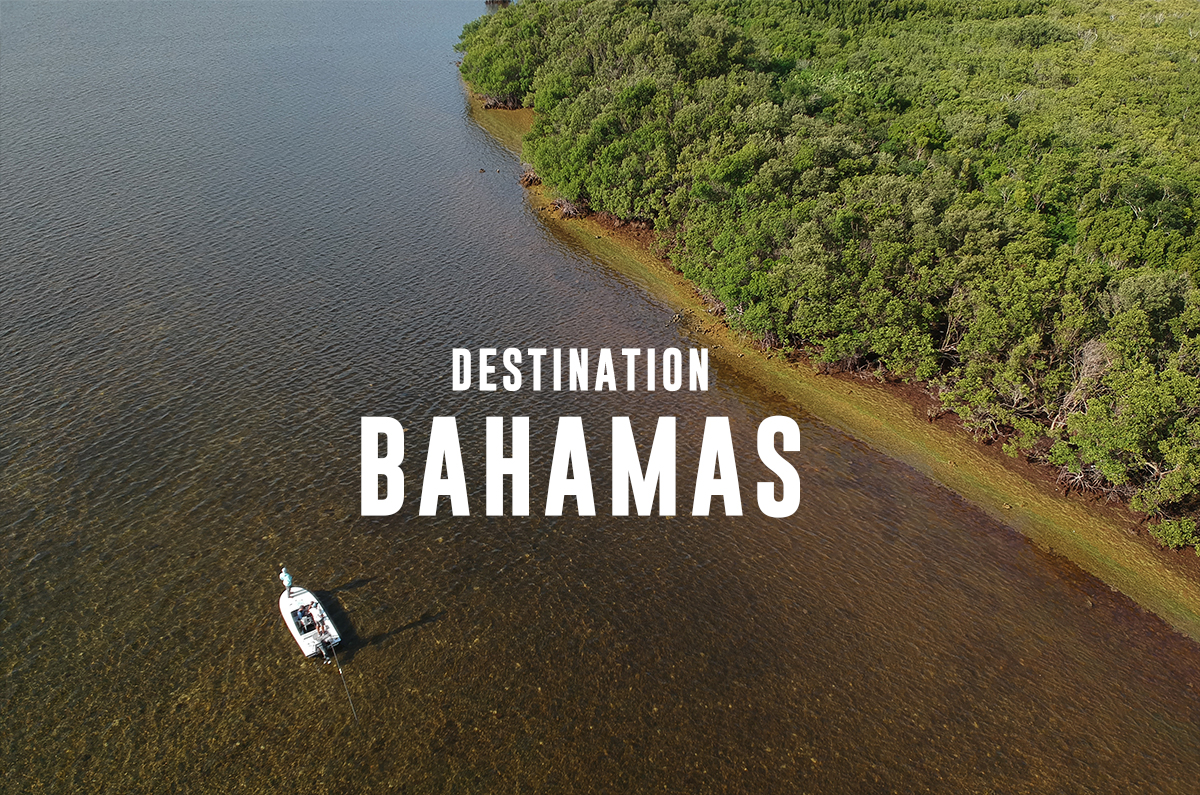 The islands of the Bahamas comprise a 100,000 square mile archipelago that covers more than 500 miles of the clearest, most pristine water in the world. This is an area that is home to some of the finest bonefish habitat on the planet, and the gigantic network of unspoiled flats found throughout the Bahamian islands are the country's main angling attraction. The species that inhabit the flats include the "Caribbean Big Three" — bonefish, tarpon, and permit — as well as barracuda, sharks, mutton snapper, mangrove snapper and jack crevalle. With a diverse species list like this - having the proper flies and gear are essential to success and will make your trip that much more enjoyable and memorable.

View the ultimate Bahamas Gear List and be prepared for your next trip down.
Must Have Patterns for the Bahamas
UMPQUA'S BONEFISH SCAMPI
Designed by Signature Tyer Henry Cowen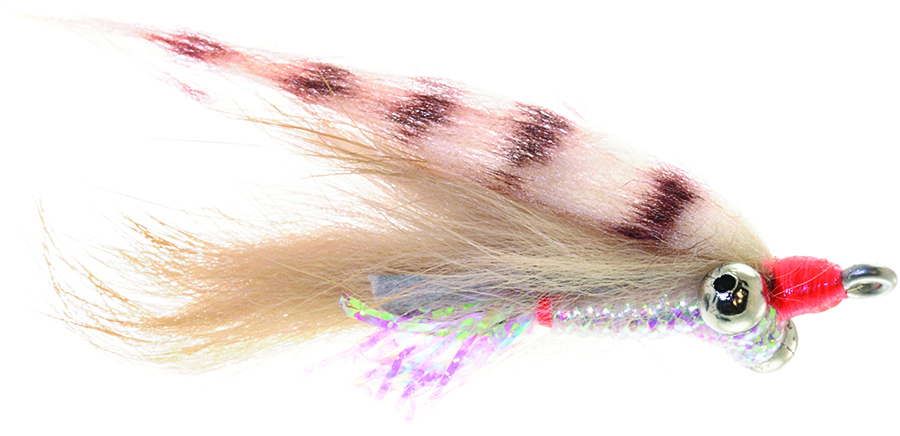 Color / Pink and Tan (pictured)
Size / 2 and 4
Weight / Bead Chain and Lead Eye
"Cowen's Bonefish Scampi was designed back in the mid 1990's after coming back from a week of fishing at Rupert Leadon's Andros Island Bonefish Club. Back in the 90's the most popular bonefish flies were a Gotcha, Crazy Charlie, tan Clouser and a Peterson's Spawning Shrimp. While fishing with a different guide each day the talk eventually came to flies for catching big bonefish and or finicky bonefish. These guys were fishing nearly 200 days per year so who would know better than them. The key factors to what they wanted was a longer wing and something that moved and breathed in the water.

When I got back home to CT I sat at the vise planning my next trip and thinking of what I had been told by my guides. Rabbit was the answer to how to make a fly move and breathe in the water. Nothing moves in the water like rabbit whether being retrieved or when at rest. Adding a polar fiber wing allowed me to have the most supple and translucent material to use as a wing. What turned out was a Gotcha on steroids of sorts.

The following year the Scampi had performed better than anticipated. While big single bonefish ate the fly providing I had tied a longer than normal wing, it was the finicky packs of bonefish that showed no signs of passing up my offering. Since that time in Andros the Scampi has fished well throughout all of the Bahamas as well as Mexico, Belize, Los Roques, the Seychelles and even the Florida Keys. Fly Fisherman Magazine voted it the BEST flats fly in 2002'. Tying it with different weights to help its sink rate or quietness is the key when adding them to your fly box. Twenty-five years later, Umpqua Feather Merchants still has the Bonefish Scampi added to its assortment of must have bonefish flies. It has become a tried and true bonefish fly which later we found out also happens to catch carp, redfish and striped bass that are sucking in crustaceans."
- Signature Tyer Henry Cowen
UMPQUA'S BONEFISH BUDDY
Designed by Signature Tyer Brett Reed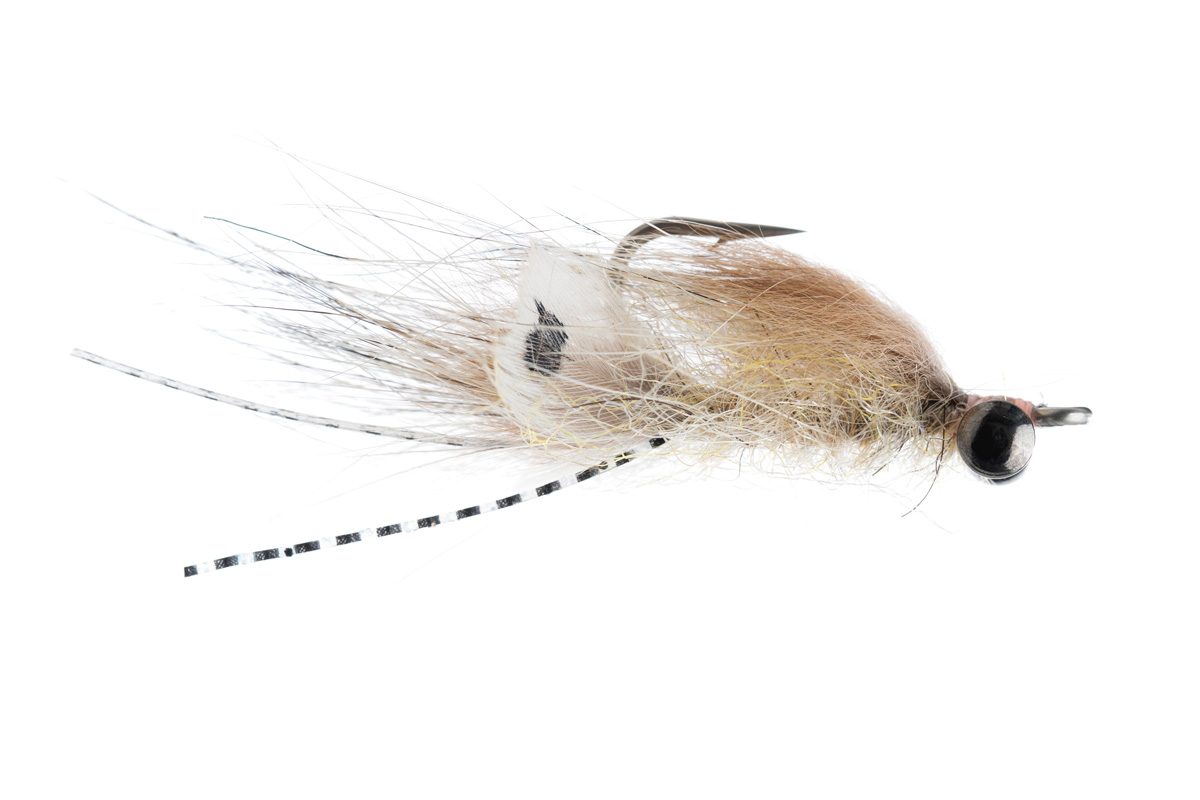 Size / 6, 8, and 10
"The Bone Fish Buddy fly was inspired from a cast-and-blast Redfish trip to Louisiana I made several years ago. After harvesting some Blue Wing Teal ducks during our hunting day, I noticed the breast feathers had that nice dot on it so I thought it could be used for Crab claws and eyes. The following spring I had great success with the new pattern while fly fishing in the Bahamas with my guide, Buddy Pinder. I've fished with Buddy for over a decade now and I felt that naming my new pattern after him was an appropriate tribute to him for all the great days on the flats he's given me.
The fly is a cross between a shrimp and a crab pattern and it has lots of nice movement and swimming features. The fox fur and micro legs give it great movement from both current or stripping motion. The turkey flats serve a few great purposes-- they have the appearance of crab claws but also have a nice swimming action when stripped. The dot on the turkey flat give the appearance of eyes from behind but do not impede a hook-set like mono beaded eyes do. The body length and amount of flash in the body dubbing give it the appearance of a translucent shrimp body. Overall a great universal flats fly pattern that I've caught a lot of Bonefish with and several different other species.
Hunting and casting to Bonefish are some of the most enjoyable experiences of my life. I thought that giving back to the habitat and sport I love so much by donating my royalties to the Bonefish Tarpon Trust is the least I could do. Hopefully more people in the future will be able to experience and enjoy the sport the way I have."

- Signature Tyer Brett Reed
UMPQUA'S ER CRAB
Designed by Signature Tyer Doug McKnight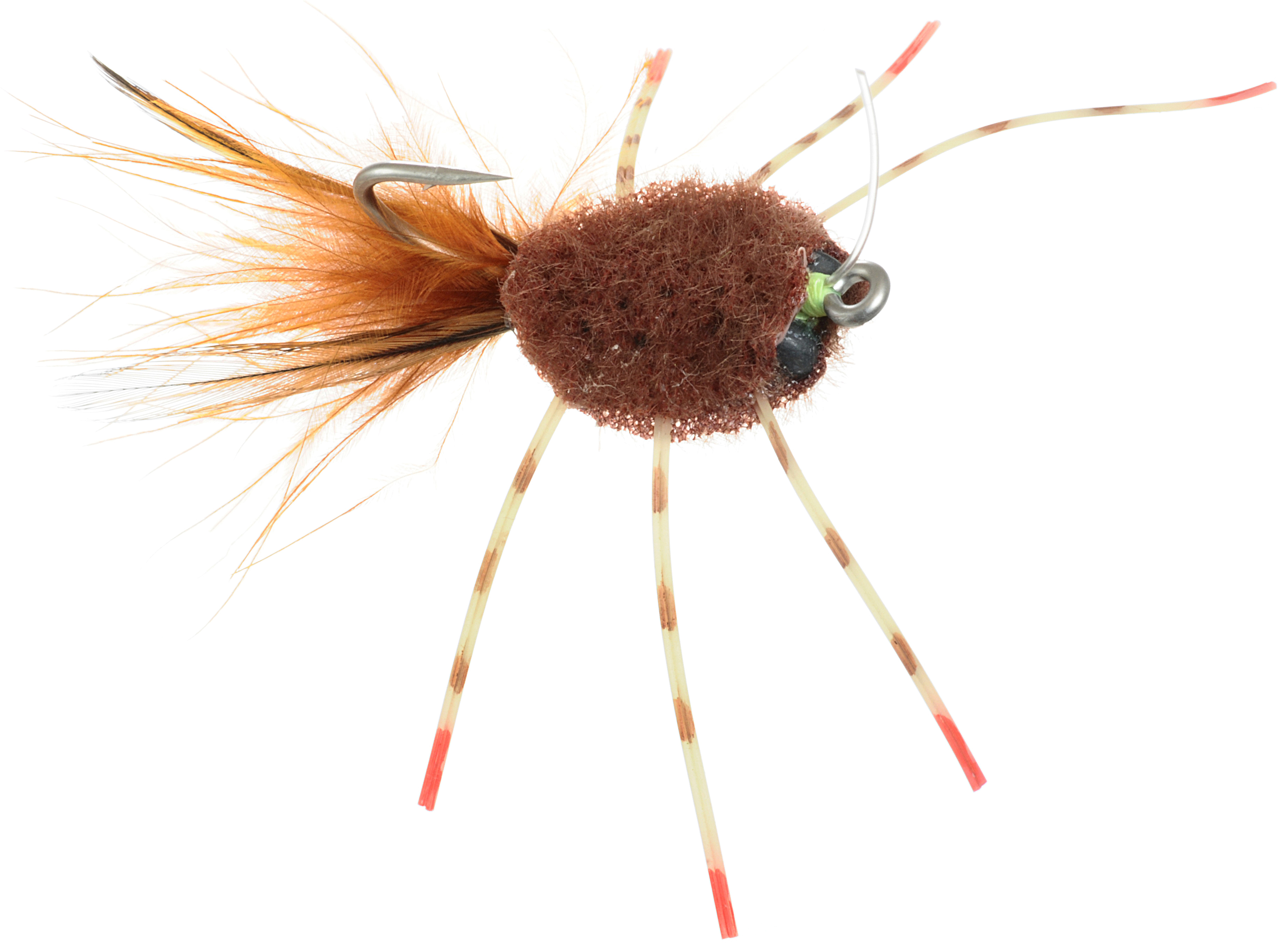 Color / Olive and Tan (pictured)
Size / 2 and 6
90 degree single post weed guard
"Emergency Room" this fly will need time in ICU after being crushed by Permit. This fly is an updated version of Jan Isly's raghead crab. I was tired of mixing epoxy and carpet fibers, that is messy, time consuming, and difficult to get a consistent shape.
One of the keys to this crab is that it uses an adhesive that remains rigid yet flexible. Any hard epoxy crab can and will break loose from the shank and block the gap of the hook at an incredibly inopportune time, when a permit crunches the crap out of it. Crushed hooks, broken epoxy bodies, and broken lead eyes are common after a Permit takes the fly and uses it's large crushers to pulverize the crab.
By having a flexible body, it will never break loose and block the gap of the hook. This fly has caught Permit and Bonefish all over the place and will work anywhere for any fish that like crabs. It is tied in a larger, heavier size for typical Permit conditions and depths of 3–8 feet, and it is tied in a smaller and lighter version for skinnier water and calmer conditions. The smaller version is a great pattern for large tailing bonefish in 1–2 feet of water."
-Signature Tyer Doug McKnight
UMPQUA'S MANTIS SHRIMP
Designed by Signature Tyer Bob Veverka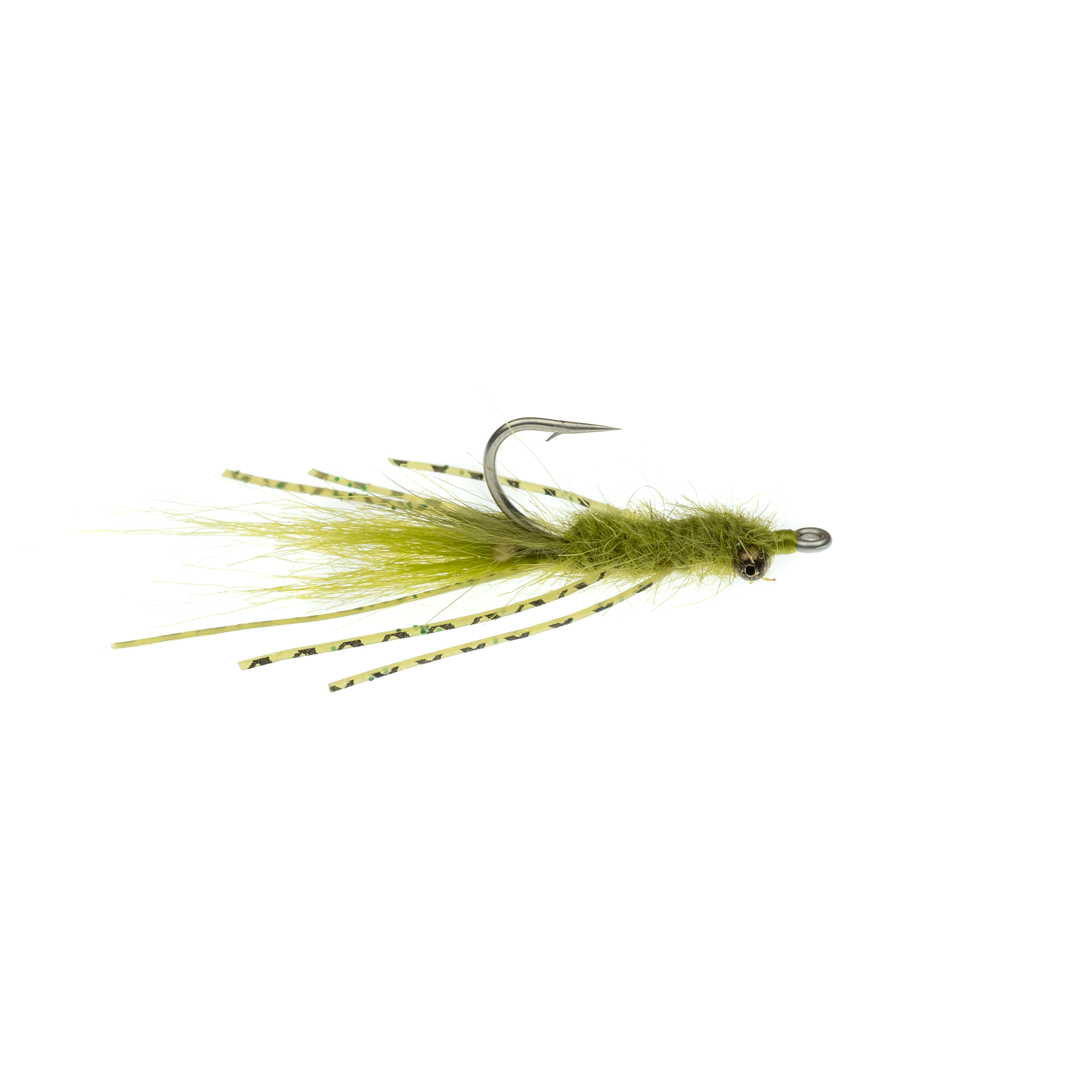 Color / Tan and Olive (pictured)
Size / 2, 4, 6, and 8
90 degree single post weed guard
"When designing flies for predator fish I feel it's best to match the prey they are feeding on. Most important are the size, shape and color. Size can easily be changed or matched by the size of the hook you tie on. Shape or silhouette must be built into a pattern so it resembles the prey you wish to represent. It should be a fly that's easy to tie with basic materials, lands lightly, sinks fast and most important, catches fish.
The bulky body on my Mantis pattern makes it land softly, and the bead chain eyes bring it to the critical zone. - One notable feature on all shrimp are their eyes. Eyes on real shrimp move and make them look like a creature from another planet. I have not figured out how to incorporate this component into a fly pattern so I used the standard burnt mono eyes. - For the carapace I tied in a tuft of tan rabbit fur. This material looks bulky in the water and displays the most enticing movement. Even at rest this material quivers with life.
A slight current or a strip on the line will make this material pulse like no other. - Perhaps the most important feature on my Mantis Shrimp pattern are the legs and the way they are tied on. Most bonefish flies that include legs have them tied in all together in one area on the fly. To me this looks like a clump of legs or a dead shrimp. I wanted my pattern to simulate life so each leg had to be separate and act like a natural shrimp with lots of movement. It takes a little extra time to tie a fly in this manner but I feel this is what makes this fly so distinctive and deadly on wary bonefish. Over the years it has become one of the go to patterns used in the Bahamas and a standard in every fly box that travels to this area."
- Signature Tyer Bob Veverka taken from a feature awhile back from Deneki Outdoors
BUILD - A -BOX
SALTWATER